Jul 15, 2022 09:18 AM Central
One Drop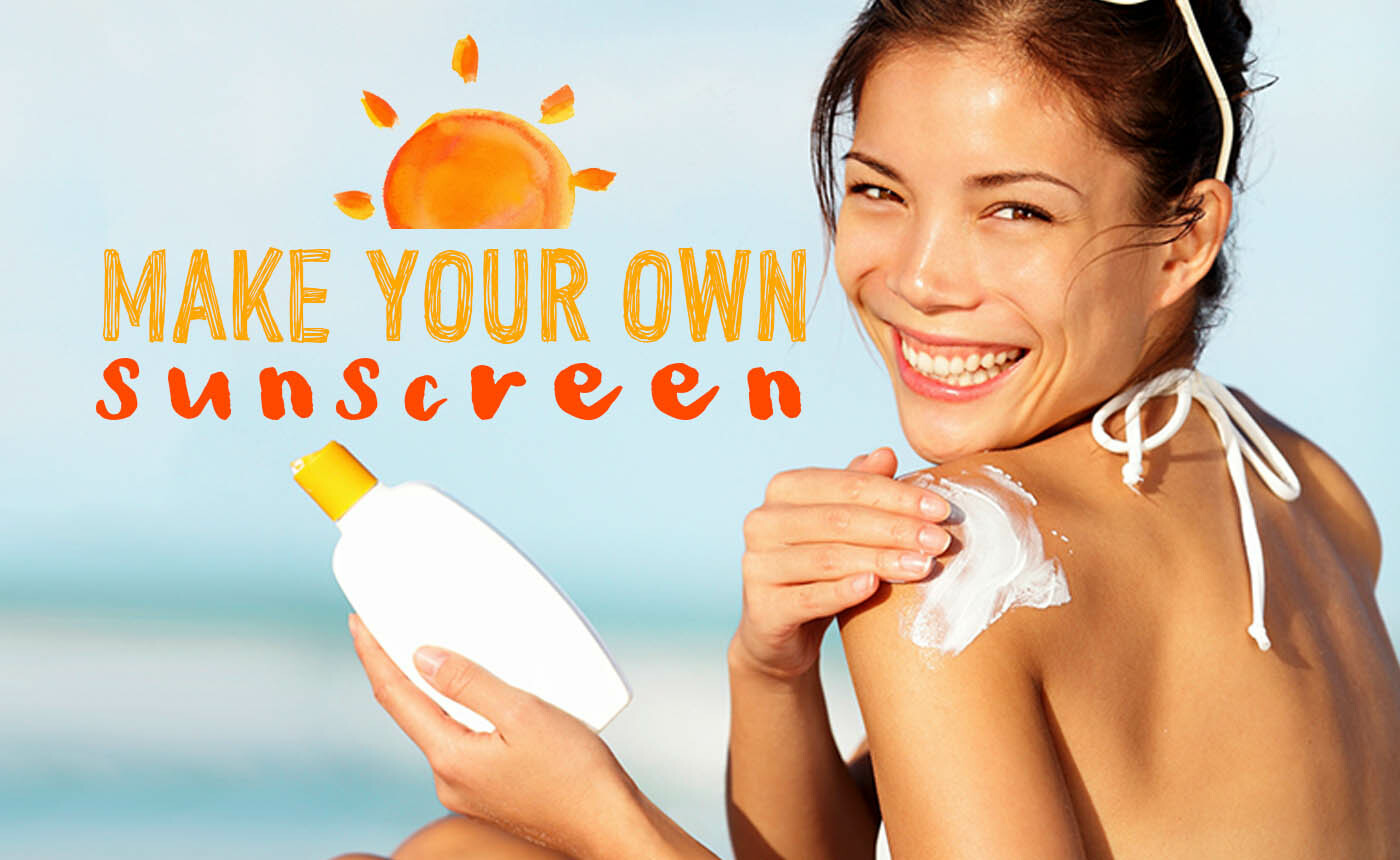 DIY SUNSCREEN
---
This post is contributed by One Drop member – Yvonne Zee
OUR RESEARCH
Why I avoid commercial sunscreen is to stop exposing my skin to toxic chemicals used in sunscreens, several of which are endocrine system disruptors, increase the risk of cancer, and more. Remember, our skin is our largest organ, and what we put on it gets absorbed into our body.
Unfortunately, many of the oils that we have only block UVB rays and not UVA; Except for Red raspberry seed oil, many research has found this oil to have both UVA and UVB qualities. So at the end of 2013 , I made my first batch of face sunscreens with some basic essential and carrier oils (which is a very important component of the formula) and gave them as Christmas presents to my Oily pals. They were very well received because many felt their skin improved !
So in early 2014 , I decided to do more more research and came up with what I hope as improved versions of sunscreens for the face , body and children. But do remember, these are at best screens and not sunblocks because there were no lab experiments to come up with the formula and definitely no chemicals to totally 'block' off the sun rays. We have used the trial and error method to have come up with our suggestion. You may need to adjust the quantity/combination to suit your own skin type better! Also the quality of the essential oils ( we only use Young Living oils ) as well as that of the carrier oils are equally important .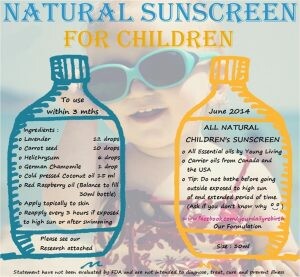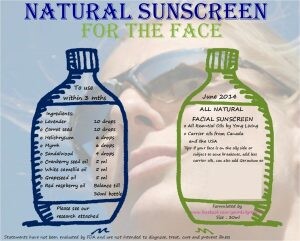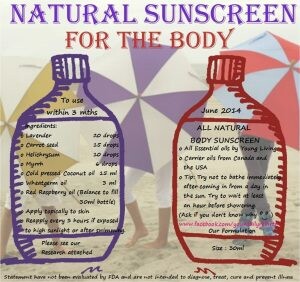 Reapply every 2 hours if exposed to high sun or after Swimming
Do not bathe before going outside for an extended period of time .
What we are doing to our skin by washing off natural oils is causing it to be more susceptible to the sun's rays . We are leaving our largest organ with no protective barrier . Human sebum has a natural SPF of 6 – 8 . Why would you want to wash that off ?
Also try not to bathe immediately after coming in from a day in the sun.
Your body needs time to finish processing the Vitamin D and UVA/UVB rays. Try to wait at least an hour before showering .
And some studies have shown some foods like fermented Cod Liver Oil ( high in Omega-3 acids ) can help reduce the excess inflammation induced by UV tissue damage , hence reducing sun damage .
UVA + UVB : the long and short of it
The sunlight that reaches us is made up of two types of harmful rays: long wave ultraviolet A (UVA) and short wave ultraviolet B (UVB). Basically, UVA rays can age us and UVB rays can burn us. Overexposure to either can damage the skin. There's also a third type of ray, UVC – these are the shortest and strongest, but thankfully they're absorbed by the ozone layer and don't typically reach the Earth.


UVA rays are constantly present, no matter the season or the weather. If you think you can't get sun damage on a cloudy day, tell that to the UVA rays. They are so powerful that they also penetrate some clothing and even glass. (When was the last time you applied sunscreen before getting behind the wheel?)
UVA rays penetrate deep into the dermis, the skin's thickest layer. Unprotected exposure can lead to premature skin aging and suppression of the immune system. And when your skin's defenses are down, you're at risk for skin cancer.


UVB rays are the rays you can blame when you get a sunburn. Unlike UVA rays, these rays aren't always the same strength year round – They're more prevalent in the summer months, however they are able to reflect off of water or snow, so it's always important to protect yourself year-round.
UVB rays will usually burn the superficial layers of your skin. The intensity of UBV rays vary by season, location and time of day, with 10am to 4pm being the peak hours. Sunburned skin doesn't just feel awful, it can cause permanent damage over time.
Thus, my reasons for using the oils in the various sunscreens blends are…
(Note the different oils used for the face or for children's more sensitive skin)
Essential Oils:
Carrot Seed Oil
One of the highest UVB protection 35 to 40 SPF plus good for oil control on face. Has significant antioxidant, antiseptic, antifungal and fragrant properties with high levels of vitamin A. When applied topically to the skin diluted with a carrier oil, carrot seed oil also provides one of the highest UVB .


Lavender
Low level SPF 6 but highly anti-inflammatory and good for skin repair


Helichrysum
Has been selected for its ability to effectively filter out some of the sun's rays. Helps with many skin conditions


Myrrh
The ancient Egyptians protected themselves from the powerful desert sun by generously applying this essential oil to their skin; and myrrh was the secret that kept their skin so lovely


Sandalwood
Heals our skin, scars and wrinkles; improves the youthfulness of our skin


German Chamomile
Soothing, powerful antioxidant (inhibits lipid peroxidation) and anti-inflammatory.


Geranium
Helps with many skin conditions, anti-inflammatory and controls oily skin and revitalizes our skin cells.
Carrier Oils:


Red Raspberry Seed Oil
Contain exceptionally high levels of alpha and gamma tocopherols (vit. E), vit. A and omega 3 and omega 6 fatty acids. This provides the skin with significant broad spectrum protection from damaging UVA and UVB rays. SPF 28 to 50.
Its high level of Vitamin E is known to be give it an important role in skin repair and conditioning. It is known especially for its prevention of gingivitis, rashes, eczema and other skin lesions. Raspberry seed oil is emollient, lubricating, conditioning, creates a lipid barrier providing protection to the skin and provides moisture retention for the skin.
It has superior anti-inflammatory properties and works well on rashes, eczema and other skin lesions. It has a long shelf life because of its high phospholipids content, and may increase the stability of other carrier oils when blended with them.


Cranberry Seed Oil

Light in texture, quickly absorbed.
Cranberry seed oil is the only available carrier oil with a natural ratio of omega 6 (linoleic), omega 3 (alpha-linolenic) and omega 9 (oleic) fatty acids. Cranberry seed oil aids in the absorption and utilization of the essential fatty acids in the skin, and is said to moisturize the skin as no other oil can.

Cranberry seed oil contributes to the lipid barrier protection of the skin and assists in moisture retention.
Cranberry seed oil is a wonderfully moisturizing addition to any formula for cream or lotion for rough, dry, or mature skin. Some sources say it aids in the relief of scaly, itching skin conditions, and may be helpful for both eczema and psoriasis.
A producer has seen evidence that cranberry seed oil is an effective barrier of UV rays, thus helping to protect the skin against sun damage. They are now in process of testing to find proof of this claim.


Coconut Oil

Coconut oil (cold pressed) has an amazing ability to heal the skin and block the damaging effects of UV radiation from the sun. One of the reasons why it is so effective in protecting the skin is its antioxidant properties, which helps prevent burning and oxidative damage that promotes skin cancer. There have been several recent studies done on the use of coconut oil as a sunscreen but there are fluctuations in the SPF rating of coconut oil. One study "proved" a rating of only 4 while another rated coconut oil at a 10.


Wheatgerm Oil

Wheatgerm is one of the best sources of natural vitamin E and is also a good source of vitamin K, B vitamins and choline. When applied to the skin, wheatgerm oil helps to moisturize tissues and acts as an antioxidant to prevent free radical damage. Wheatgerm oil has a natural SPF rating of 20.

Note :- Use at a proportion of maximum 5% to 10% of wheatgerm oil in a blend; also a preservative in other carrier mixtures + prevent deterioration.


White Camellia Oil

White camellia oil was traditionally used by Geishas to keep their skin flawless and their hair lustrous and healthy. This camellia oil is a precious cold-pressed certified organic oil containing exceptionally high levels of antioxidants to prevent free radical formation; soothing properties to help calm sensitive skin; nutrients to nourish devitalized skin; and emollients to create a healthy dew-like complexion. White camellia oils is also one of the rare ingredients that is wonderful for all skin types, including mature, ultra sensitive, oily, combination and acne prone.


Grapeseed Oil

This oil is said to be rich in oligometric proanthrocyanidins or OPC. These are like the sesame seed oil components which hunt down free radicals that cause aging, with the purpose of eliminating them from the body system, Studies show that the OPC in grapeseed is twenty times more effective than vitamin C in eradicating free radicals in its function as an antioxidant. The antioxidating capabilities also promote the self-repair process of cells, which is important when the skin becomes affected by the sun's UV rays. The SPF rating for this oil as a sunscreen ingredient is 4.
---
Yvonne is a member of OneDrop. She supports oil users via her facebook page – Your Daily Rebirth. If you like Yvonne's articles and would like to purchase the Young Living oils, please feel free to get in touch with Yvonne or sign up directly here.