Jul 15, 2022 10:17 AM Central
One Drop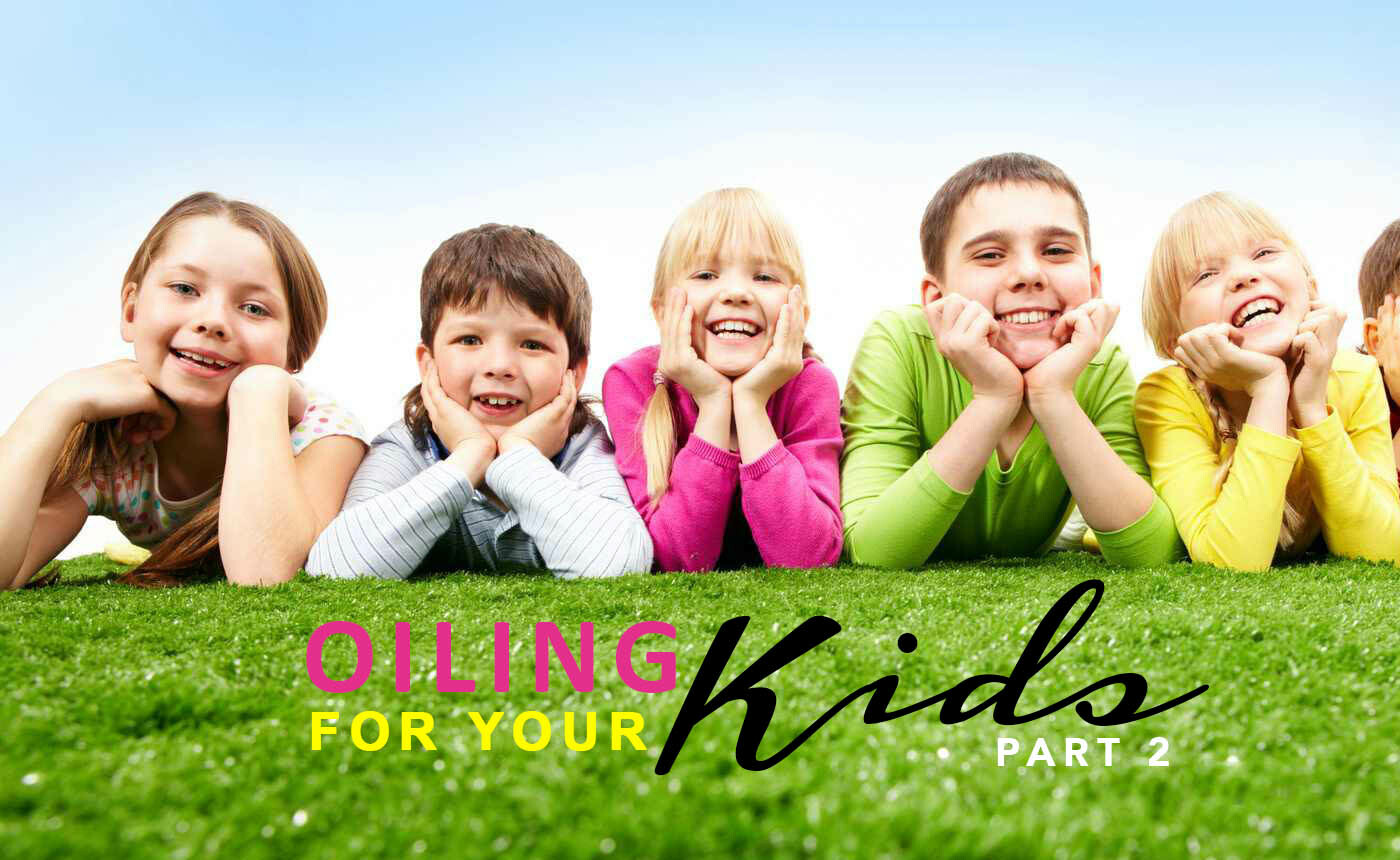 OILING MY CHILD PART 2
---
This post is contributed by One Drop member – Faith Teo
PART TWO – I AM NEW TO THE OILS AND I WANT TO OIL MY BABY / KID BUT I HAVE THESE QUESTIONS….
1. HOW and WHERE to APPLY
2. DURATION AND AMOUNT to DIFFUSE
3. DILUTION RATIOS
So it sounds like yesterday's post about whether this oil or that oil is safe for our kids resonate with a lot of folks here…
Aaaannnd let's continue!

1. HOW and WHERE to APPLY
Let's keep it simple simple simple. You only need to remember TWO tips from me.
If you are applying, WHICH PART of the body do you want to work on? If its a respiratory condition, then it's the lungs and you apply where the lungs are at – CHEST and BACK.
SLEEP? Well that is the brain yes? So you apply on the forehead and scalp. Rims of ears too if you like.
GROWING PAINS? Where is the growing pains at? Apply there. Simple? Yes it is that simple.
If you get flustered on where to apply, then just oil the soles. The soles is a mirror of our bodies (Google "foot reflexology" then click Images).
Your hubs SNORE and you want to kick him out of the bed. You hear that THYME works but well its a hot oil and you probably are too kind to apply it on his face. What do you do? Answer: Rub it on his soles.
Your baby. She's so young and so delicate. You worry that the oils may be too potent for her skin. However SOLES are thick and fleshy and have LARGE PORES. So rubbing oils on her soles would be wonderful for her.
Ok here comes the TRICK QUESTION! What if you want to work on your child's immunity? Where do you apply? After all, there is no "immunity organ".
Usually when a person is under the weather, the unwelcome guests first reside in the SPINE of the body. So yes please oil the spine or again, if you want to keep things SUPER SIMPLE, just oil the soles ALL THE TIME.
How about temperature management? Well, how about oiling where it feels hot?

2. DURATION AND AMOUNT to DIFFUSE
Moms tend to go into worry mode when they see this on the bottle – "Diffuse up to 10 mins 3 times a day." The diffusers we use tend to go up to a few hours and IS THAT TOO MUCH FOR MY KID???
My answer – the directions you see is for the YL USA Therapro diffuser. Therapro works like the AromaLux that we have in Asia, where it DIFFUSES DIRECTLY from the bottle. No water. Just spraying EO neat into the air.
Because it's pretty potent, the label recommend 10 mins. And labels also tend to go conservative… well they have to, from a legal standpoint, you know what I mean?

So let's talk about the usual diffusers that most people use, which tend to be water based, such as the Dewdrop diffuser.
And now, we apply a bit of Common Sense and take a look at the instruction manual which says 100 ml of water to diffuse 5 to 8 drops of EO into a room….
In my humble opinion, this is the gentlest way to introduce an eo to a little one because firstly there is water involved and secondly the drops of EO is SPREAD AROUND in the room.
However if you are worried or want to go CONSERVATIVE, I've TWO tips for you:
Cut down the amount of EO used. How about going down to just 2 to 4 drops for 100 ml of water? You can also cut down on the duration diffused too.
You can apply the EO on yourself and then spend time with baby. Parents are the BEST diffusers for their kids!
3. DILUTION RATIOS
So I do get a lot of "How much eo can I apply?" "Neat or diluted?"
Ok so let's keep it simple for everyone to remember…. ONE DILUTED DROP TILL AGE 3.
This is not a hard and fast rule though. I have done neat for Ju when she was younger. I have done neat for Sol but realized that his skin gets rashes quicker. But if you are new to oiling, why not start with this first then adjust as you go along?
Perhaps you might have a kid who don't respond quickly enough to heavily diluted oils and so you dilute lesser. Perhaps you have a baby whose skin turn red and bumpy if you try neat. Go slow go gentle first and adjust along the way.
DILUTION RATIOS? A simple way I remember my dilution is that I remember the ratio of 80%. That means I go 20% EO and 80% carrier oil. And well you will see various websites recommending different ratios but for simplicity, this is what I use.
In practical terms, it's about 1 drop eo to 1 teaspoon of carrier oil. OR you can take an empty 15 ml bottle, drip 20% eo into it then top up with carrier oil.
Because I hate fussing with oily carrier oils, this is how I oil my babies WITHOUT BLENDING carrier oils and EOs together.
I take a drop of EO and rub my palms together for a couple of seconds. The drop becomes lesser since it is first absorbed into me.
I apply what's remaining on my child. I then take 1 to 2 drops carrier oil (I use an empty eo bottle and put in carrier oil for easier usage) and apply on him. Done!
If I have to oil 3 different EOs on him, I go EO 1, EO 2, EO 3 then carrier oil.

🙂
I hope this post helps! Drop me a comment if you have any questions or just to let me know whether this post is useful. Have a wonderful day!
---
Faith is a member of OneDrop. She and her team supports oil users via their facebook group – Let's Add Oil and their blog – School of YL. If you like Faith's articles and would like to purchase the Young Living oils, please feel free to get in touch with Faith or sign up directly here.