Jun 20, 2022 12:28 PM Central
One Drop
2 DIY RECIPES FOR LOVE
This post is contributed by One Drop member – Ranna Seah.
1) ELEGANT ROSE SUGAR SCRUB
The rose took on this meaning because of its affiliation with Aphrodite, the goddess of love. In Greek mythology, it is said that rose bushes grew from the ground through Aphrodite's tears and the blood of her lover, Adonis. The Romans, who turned Aphrodite into their goddess Venus, kept the rose as her symbol of love and beauty. So when Valentine's Day became the mainstream holiday we know today, the rose was an obvious choice for the most fitting gift.
WHAT DOES A SUGAR SCRUB DO FOR YOUR SKIN?
The main purpose of a sugar scrub is to exfoliate and remove dead skin cells, revealing new skin. Homemade body scrub allows you to control what you put in your recipes and what you put on your body and it worked just as, if not even better than OTC sugar scrub, leaving your skin cleansed, exfoliated and moisturised. And it is very easy to make!
TYPES OF SUGAR TO USE FOR SUGAR BODY SCRUBS
There are three main types of sugar you can choose from when making homemade sugar scrubs. The following information are just for your knowledge. For this recipe, we will go with pure cane sugar as it looked better with rose petals.
Brown sugar is the least abrasive making it a good choice for those with sensitive skin, and a good choice when making a face scrub. Since it is the gentlest, it can be used up to 4 times a week.
Pure cane sugar (unrefined white) is good for all skin types and contains some essential nutrients to feed the skin. Can be used 2 – 3 times per week.
Turbinado sugar (raw) is naturally the coarsest due to its large granules and makes for a great body scrub. It is the least processed of the three and holds the most essential minerals. Body scrubs made with raw sugar can be used up to 2 times a week.
MATERIALS:
1 cup pure cane sugar
1/2 cup dried or fresh rose petals
3 tbs of V-6 Enhanced Vegetable Oil Complex
6-8 drops of Rose Essential Oil
Optional: 1 tsp of Vanilla Essence or 10 drops of Vanilla Essential Oils
INSTRUCTIONS
To make the sugar scrub, start with 1 cup of dried rose petals.
Pulse the petals in a food processor until they become teeny tiny flakes.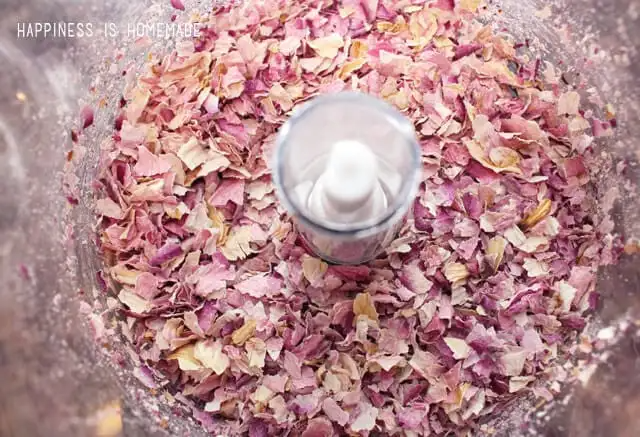 Combine the crushed petals with the sugar, V-6 and essential oils
This easy sugar scrub recipe can be made with fresh or dried rose petals. Simply add the sugar and rose petals to a food processor and blend until both ingredients are combined. Pink rose petals create a soft pink hue. Optionally, add a little pink mica* for a stronger pink colour.
If you want to switch it up, add 1 tsp vanilla extract or 20 drops vanilla oleoresin to make vanilla rose sugar scrub.
Mix well and then spoon into a storage container. This recipe makes about 16-18 ounces of sugar scrub, so it fits nicely into a pint sized mason jar. Just add a cute fabric jar topper and a ribbon, and it would make a wonderful gift idea!
Pink Mica* is natural shimmer pigment derived from the mineral Muscovite Mica, coated with iron oxide, cosmetic-grade fineness (particle size 10-60 microns).Because it is naturally produced it is a particularly well-loved ingredient among organic and natural beauty brands, and is safe to use on almost all skin types with little to no side effects.
2) Romantic Chocolate Body Butter
Chocolate is considered aphrodisiac food since the time of Aztecs. Chocolate is said to contain substance that inflames desire and make the beloved one more open to romance. In olden days, this resulted in the tradition in European royalty to give their lovers chocolates mixed with amber to stimulate their love.
WHAT IS A BODY BUTTER?
A body butter is normally a type of oil-based cream that doesn't incorporate any water like a lotion. Body butters usually comprised of a mixture of oils and butters that are often whipped together to give them a lighter texture.
Because they are denser than lotions, they are also more occlusive, meaning that they can create a barrier that helps keep moisture from leaving your skin. That also makes them last longer on your skin than a lotion.
And because they lack water, they also normally have a longer shelf life.
MATERIALS:
140 g shea butter
60 g coconut oil
2-3 tsp cocoa powder
5 g vitamin E
10 drops of Ylang Ylang
10 drops of Geranium
INSTRUCTIONS:
Weigh out the shea butter, and coconut oil in a double boiler or double boiler insert. The easiest way to do it is to add each to the recipient and then tare the scale between each ingredient to get the scale back to zero.
Heat the double boiler until the butter have melted.
Add in the cocoa powder, and mix together thoroughly until it is well incorporated into your mixture. Pour the mixture into a stainless steel bowl that will fit into your freezer.
Place the mixture into the freezer or into an ice bath to cool the mixture as quickly as possible. This will help prevent a grainy texture in the final product.
After a few minutes have passed, remove the mixture from the freezer and use a spatula to wipe the solidified butters off the sides of the pan. Beat everything together.
If the mixture is relatively cool, you can now add your heat sensitive ingredients: the vitamin E and the essential oils. Whip them together with the rest of the ingredients, and place the mixture back in the freezer again for a few more minutes.
Remove the mixture from the freezer again and, once again, use a spatula to remove the solidified butter from the sides of the bowl. Use the beater to whip everything together.
Continue the cycle of freezing and whipping until the mixture has solidified enough to keep its shape.
You can now spoon or pipe your mixture into their final storage containers. I like using glass jars with metal lids for body butters.
---
If you like my articles and would like to purchase the Young Living oils or have further clarifications, please drop me a message here or email me at fabulana@gmail.com. If you are ready to sign up as member to purchase, you can click here. I would love to support you in using the oils for yourself and your loved ones.