Jun 20, 2022 04:15 PM Central
One Drop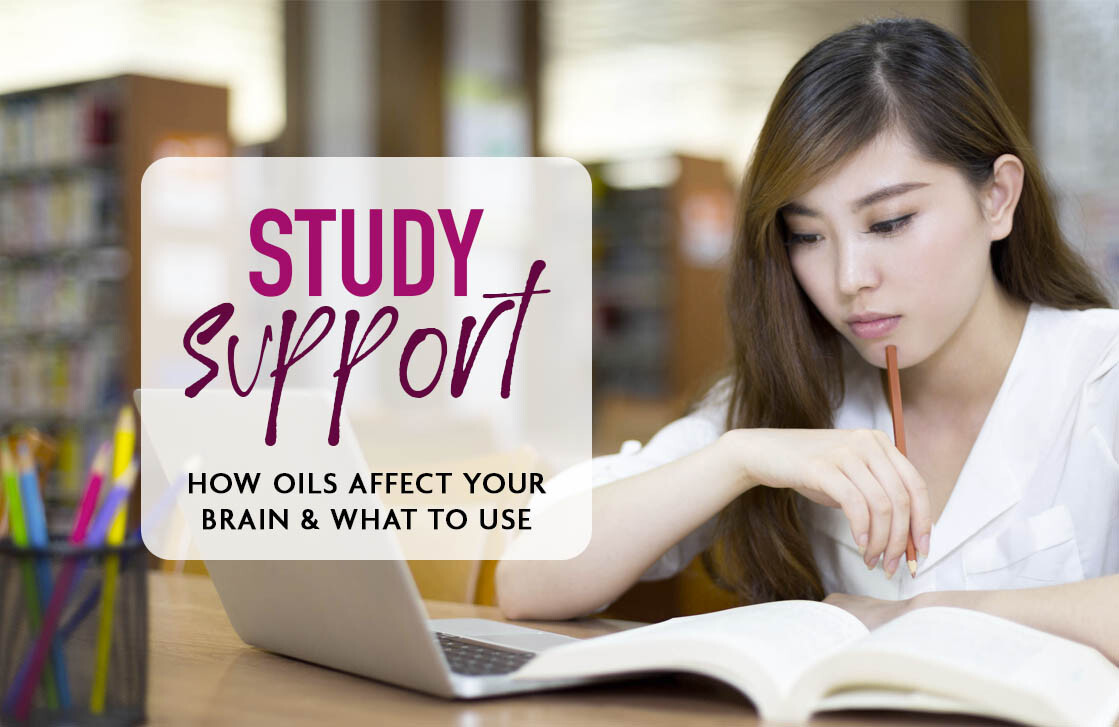 STUDY SUPPORT
---
This post is contributed by One Drop member – Ranna Seah.
It's October and we are facing one of the biggest challenges ever…FINAL YEAR EXAM! It was exactly this experience which spurn this blog because we have some of the greatest tools on hand to support our kiddos through this. (I am not sure if I am in time for parents with kiddos going through the PSLE (Primary School Leaving Examination) which is such a huge determining factor of the child's future. But I hope you can still have some key take away from this sharing.)
Well…it is a universal fact that a lot of studying is done by the brain (with the help of the other senses like sight, smell and sound). The brain controls speech, movements, thoughts and regulates the function of many organs. So it is the brain we should target support at.
Before we start, let us learn a little bit of the chemistry of essential oils first so we know how they work. I've already made it as painless as possible already…but it is this 3 we must know about: Monoterpenes, Sesquiterpenes and Phenolics. (If the information is too much for you, you may just skip to the last part to see what oils to use and etc…)
---
Monoterpenes react readily to air and heat sources. Most of our citrus oils are high in monoterpene and have a quick reaction to air, are readily oxidized and thus does not last very long.
Oils high in monoterpenes supported breathing, are energizing and uplifting. They have a stimulating effect on your concentration. They promote clarity of thought and purposes.
Oils high in Monoterpenes:
Citrus Oils
Elemi
Fennel
Angelica
Frankincense
Cypress
Black Pepper
Black Spruce
Juniper
Myrtle
Nutmeg
Rosemary
Sage
Thyme
---
Sesquiterpene molecules deliver oxygen molecules to cells and they are heavier than monoterpenes and they tend to appear only at the end towards the end of the distillation process. (This is also why it is important to buy oils from companies who really take the time to understand the plant and distill the materials enough to get all the goodness.)
Because essential oils high in sesquiterpenes are known to cross the blood brain barrier, they can stimulate brain activity in a non-toxic way, and one can hope and wait to see what possible benefits will appear. Particularly with sesquiterpenes molecules that are brain oxygenating.
Oils high in Sesquiterpenes:
Black Pepper
Cedarwood
German Chamomile
Clary Sage
Copaiba
Ginger
Helichrysum
Sandalwood
Patchouli
Myrrh
Vetiver
Frankincense
Sacred Frankincense
Eucalyptus Globulous
Melissa
Nutmeg
---
Phenolics clean receptor sites of cells. They typically have a high level of oxygenating molecules too. Phenols in oils carry many benefits but need to be applied with care and common sense as some of them can be very strong and can irritate the skin or create inflammation to sensitive tissues of the mouth or face. Oils containing Phenols have been used to support the nervous system and for lifting moods.
Oils high in Phenolics are:
Wintergreen
Anise
Clove
Basil
Tarragon
Fennel
Oregano
Thyme
---
Some recorded effects of aromas on the brain:
The fragrances of diffused oils such as Lemon, have been reported to increase memory retention and recall.
In a study conducted by Dr. Dember in the University of Cincinnati in 1994, shows that inhaling Peppermint increased mental accuracy by 28%.
Pepper, Grapefruit and Fennel oils have been found to stimulate brain activity.
In a study 2017 study involving 53 secondary school students aged 13-15 years old from Ukrainian metropolis, they found that the participants who inhaled rosemary essential oils has significantly increased short-term memory. Inhalation of rosemary also increased the memorization of numbers as well.
We have a whole list of oils you can consider to diffuse for the studying head, but the number one on my list for diffusing and thus oxygenating the brain is Cedarwood (at night) and Lemon (while revising). Oils such as Rosemary, Lavender, Thieves, Peppermint diffused can be really supportive too.
Besides diffusing, here's how to get the oils on topically for the studying head:
Apply 2-3 drops on temples, forehead, mastoids (bone behind ears), and in brain stem (back of neck) as needed 3-6 times daily. Dilute 50:50 with V6 if necessary.
Oils to consider:
Frankincense
Brain Power
Sandalwood
Gathering
Sacred Frankincense
Or you can even DIY your own Memory blend in a 5ml bottle:
2 drops Lavender
3 drops Geranium
3 drops Rosemary
3 drops Northern Lights Black Spruce
2 drops Tangerine
1 drop Spearmint
Top up with V6 and add on a roller!
Clinical studies on Ningxia Wolfberry have shown that it has an anti-senility effect and high oxidant foods such as spinach and blueberry dramatically improved learning and cognition. So, do make sure you load your kiddos with Ningxia Red, give them a pack to bring to school every day and serve them their greens to keep their brain weight healthy.
I wanna go into how processed food and white sugar can affect healthy brains but that will be another topic. 🙂
---
If you like my articles and would like to purchase the Young Living oils or have further clarifications, please drop me a message here or email me at fabulana@gmail.com. If you are ready to sign up as member to purchase, you can click here. I would love to support you in using the oils for yourself and your loved ones.