Jul 7, 2022 09:15 AM Central
One Drop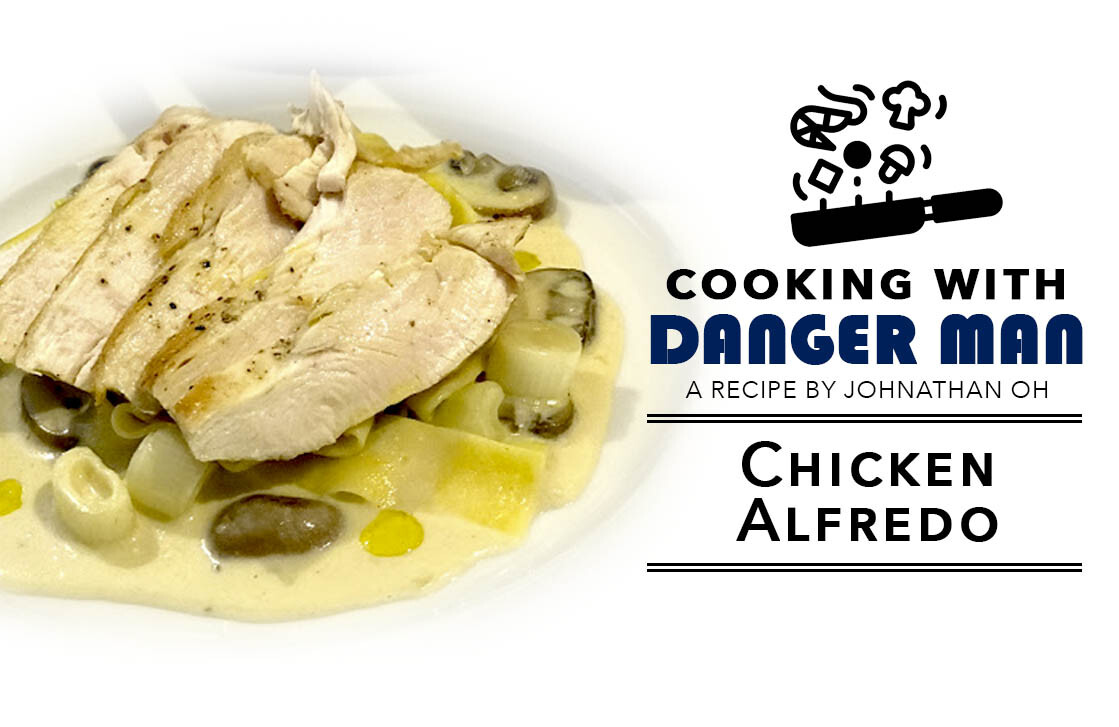 COOKING WITH DANGER MAN
CHICKEN ALFREDO (DEMO CLASS IN YOUNG LIVING SINGAPORE OFFICE)
---
This post is contributed by One Drop member – Johnathan Oh
Demo Class in YL SG Office: Chicken Alfredo
Chicken and cream sauce goes very well with each other especially the Alfredo sauce. Note that this recipe is different from a Chicken Fricassee (a dish of stewed or fried pieces of meat served in a thick white sauce) as we will be pan frying the chicken breasts to perfection and serves it with the Alfredo sauce instead of slow cooking or poaching the chicken in the white sauce. I have served this dish with egg Parpadelle pasta but you may also serves it with bread or on its very own. I hope that you will find it to be a keeper!
Ingredients:
4 Chicken breasts
Salt and black pepper
Unsalted Butter
2 cloves of Garlic
Extra Virgin Olive Oil (EVOO)
Essential Oil mixture (see below)

Ingredients (Sauce):
150ml Chicken stock
200ml cooking cream
5 teaspoons of plain flour
100g Brown mushroom
2 whole Leeks
2 teaspoons of Dijon Mustard
Salt
Extra Virgin Olive Oil (EVOO)
How to use Essential Oil (EO) for cooking:
First and foremost, please check and ensure that the essential oils that you intend to use are safe for ingestion. I got mine from here, so I know that I could use them with a peace of mind.
I use Rosemary and Lemon Essential Oil for this recipe. In order to use Essential Oil (EO) for this recipe, please adhere to the following:
DO NOT use EO from unknown, unspecified and unverified sources (Can't stress this enough)
DO NOT drip the EO directly on your dish
DO NOT use EO on direct heat to avoid destroying the benefits of the EO
This is how you SHOULD do when using the EO for cooking this recipe. Pour some cooking oil into a small bowl, then add in(dilute) the Essential Oil so that you can add the EO evenly to the dish. By the way, dripping the EO directly on the dish will not cause you to die from EO overdose BUT it will definitely destroy your dish. No one likes a full mouthful of EO.
Essential Oil mixture
For this dish, add ONE drop of ROSEMARY Essential Oil and ONE drop of LEMON Essential Oil into a small bowl. Add 1-2 Tablespoon of EVOO in the same bowl and stir to mix. This Essential Oil mixture is to be added to the chicken breasts.
Direction:
Season the chicken breasts with salt and pepper.
Heat up a pan and add EVOO to fry the chicken breasts skin side down for 5-6 minutes. Turn the chicken breast over and add 2-3 knobs of butter and two whole cloves of garlic into the pan, baste and fry the chicken for another 5-6 minutes.
Add a tablespoon of water into the pan, cover the pan and switch off the flame to let the chicken breasts cook and rest in the pan for 10 minutes.
Wash and cut the mushroom and leeks into bite size.
Heat up a big pan. Add 3-4 Tablespoon of EVOO into the pan and add in the mushroom and leek to fry for 5-6 minutes. Remove and set it aside.
Using the same pan, add 2 Tablespoon of EVOO and a knob of butter. Add 5 teaspoons of plain flour into the pan to make a Roux.
Add the chicken stock and whisk them into the Roux. Add the mushroom and leeks into the pan. Bring to boil and let cook for 3-4 minutes or until leek is slightly transparent.
Add the cooking cream and juice from the fried chicken breasts into the pan. Turn down the heat and mix well. Taste and season if required.
Mix 1 drop of Rosemary Plus EO and 3 drops of Lemon Plus EO with 1 Tablespoon of EVOO. Set aside to be drizzled over the sliced chicken breasts.
Spoon the alfredo sauce over a plate. Slice the chicken breasts (or served whole) and place it on top of the Alfredo sauce on the plate. Drizzle the Essential Oil mixture over the chicken and serve with bread or your favourite pasta.
---
If you like Johnathan's articles and would like to purchase the Young Living oils or have further clarifications, please email Johnathan here. If you are ready to sign up as member to purchase, you can click here to join Johnathan and his team.