Jul 7, 2022 09:40 AM Central
One Drop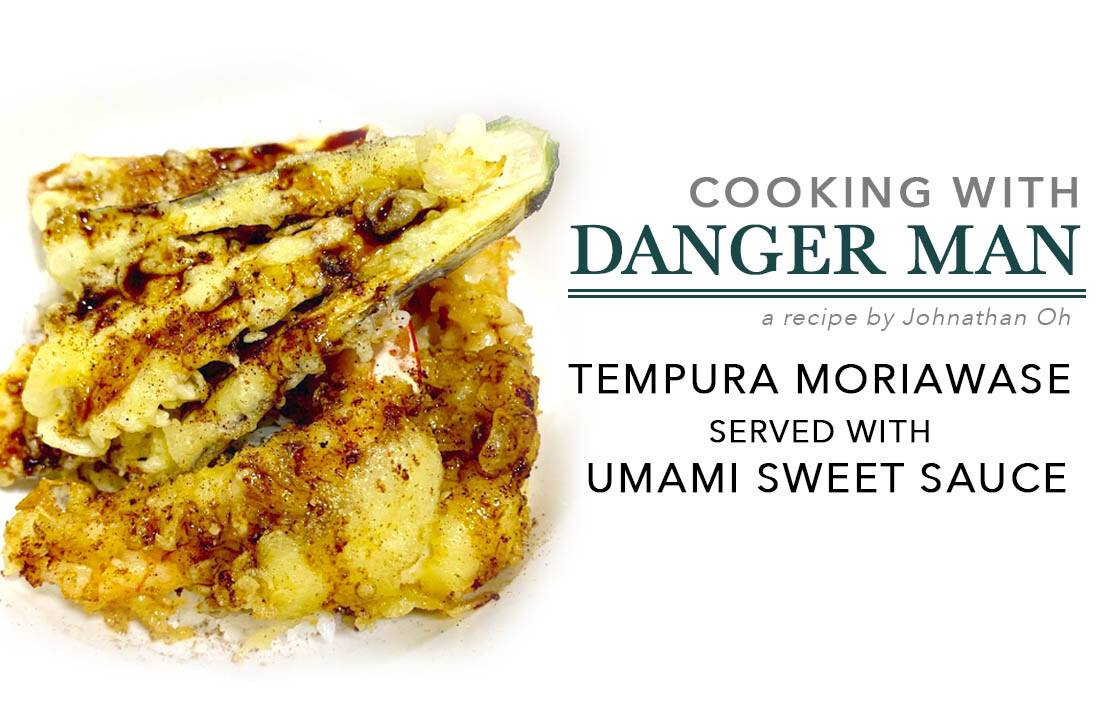 COOKING WITH DANGER MAN
TEMPURA MORIAWASE WITH UMAMI SWEET SAUCE
---
This post is contributed by One Drop member – Johnathan Oh
Don't we all love tempura? The crispy texture when you sink your teeth into one of those morsels. The delicious dipping sauce that was served with it. The only thing that I ever hated about tempura is that they are so delicious I need to spend a lot of money to eat such quantity that actually satisfies me! So what if you can make equally delicious tempura at home at a fraction of that cost? Go get your ingredients and let's eat tempura!
This recipe is really simple and its a wonder why I didn't do this earlier. Yeah yeah, the cleaning and all but hey, we are not going to eat it everyday right? Indulge in it once in a while by making a bigger batch and suck up the TLCs. I have developed a Umami sweet sauce that goes tremendously well with the tempura!
Ingredients (Batter):
2 Tablespoon of Potato starch
6-10 Tablespoon of Plain flour
1 Cup of ice cold water (You can also choose to add 1 Cup of ice cold beer)
4 – 5 ice cubes
Some plain flour for dusting the ingredients
Cooking oil (High temperature type e.g. Peanut, canola, coconut etc.)
Ingredients (suggestion):
Sweet potatoes
Eggplant
Pumpkin
Okra
Kale
Shiitake mushroom
Oyster mushroom
Prawns/Crabs/fish fillet
Secret Tempura sauce ingredient:
1 Tablespoon Shoyu sauce
2 Tablespoon of Yukon syrup
1 drop Lime Vitality Essential Oil
Sesame oil
Salt to taste
Chilli flakes (your preference)
Direction:
Cut up the ingredients into desired shape and size. For eggplant, halves it lengthwise and cut them into sections followed by fanning.
Heat up the cooking oil.
Dry the ingredients and dust them with plain flour. Shake off the excess flour. Set aside.
Mix the batter ingredients together. Don't mix it too finely, it is supposed to be lumpy.
Drop some batter into the frying pan to check whether the oil is bubbling hot.
If it is hot, coat the ingredients (one-by-one) into the batter and drop into the oil.
Fry until slightly golden brown. Remove, shake off excess oil and place on a rack to cool down.
Add the Shoyu sauce, Yukon syrup, ONE drop of Lime Vitality Essential Oil, a dash of sesame oil and salt into a bowl and mix well. Taste and adjust to preference.
Drizzle some sauce on the rice, place your tempura on top the rice, drizzle with the secret tempura sauce, drizzle with some chili flakes or paprika (optional) and serve!
---
If you like Johnathan's articles and would like to purchase the Young Living oils or have further clarifications, please email Johnathan here. If you are ready to sign up as member to purchase, you can click here to join Johnathan and his team.